Partnership Opportunities
Partner with The Tridel Group of Companies
Starting with the DelZotto brothers, partnerships have been the heart of our success. We continue to grow our partnerships and our business, to evolve who we are, what we do, and how we do it.
Our partnerships span a broad spectrum and include real estate, community development, technology and innovation and strategic relationships.
Development & Construction Management Opportunities
Partnerships comprise a substantial percentage of our real estate portfolio. Our partners, whether new or long term, consider us to be a trustworthy and well-respected counterpart that delivers what we promise, when we say we will. Our reputation and brand are a powerful competitive advantage. Tridel partners with landowners looking to create value through our expertise in development, marketing, construction and value engineering; and Deltera Construction Management partners with landowners looking for expertise specializing in the construction management of high-rise residential (condominium & rental) projects, to benefit from our reliable planning and project management, purchasing power, quality construction and more.
Community Opportunities
We are driven to create amazing places to live, and we are proud to have our name associated with everything we have built. Our vision extends well beyond the walls that our customers will own, into common areas, and into the surrounding community. Our project stakeholders participate in that vision so that we have gains that maximize the collective impact. From our long history we know that social and economic well-being leads to vibrant and strong communities that foster long term value. Through our collaborations we extend social capital into the entire community, and not just to those that live in what we build. We believe that great community partnerships make everyone in them and the places around them, simply better.
Innovation Opportunities
Businesses are being forced to innovate at an unprecedented pace. The environment is much more competitive with start-ups creating disruptions for existing businesses. Established organizations that embrace change will succeed. Tridel has a track record of innovating in our businesses and, where it made sense, creating new business platforms in adjacent markets. Whether through investment, pilot opportunities, providing early stage feedback, product co-creation, or evolved business models, these collaborations allow us to drive growth and enhance our capability to innovate.
Strategic Relationships
We expect our businesses to deliver enduring growth so that they continue to succeed into the next generation. Our business units each have proven capability and strong leaders in place. With our strong brand promise we expect each of our businesses to be recognized leaders in the markets they participate in. We believe that we can leverage our brand into new opportunities that will help us grow, and we remain open to participating in those new opportunities.
Being part of such an iconic brand is what helps drive us individually and as teams.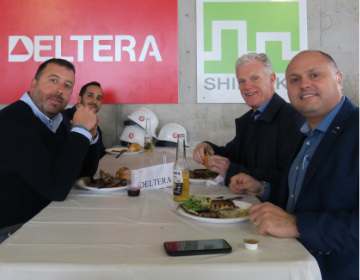 Mario Cimicata
Senior VP Construction Management deltera
87,000 Homes Built
87,000 homes built over 85 years, with loyal customer base to drive future recurring revenue
Well versed
Well versed across residential, including condominiums, mixed use, luxury rental, non-profit, senior care, townhome and institutional
Established reputation
Established reputation and volume leverage with critical GTA trades and suppliers
Institutional Support
Strong institutional support with a broad portfolio of committed construction financing
18,000 Green Suites
Committed Research and Development team with 18,000 green suites in the market making Tridel the largest green builder in the marketplace